Nature Photo Exhibit at LOOP Coffee, Tremont Ohio

There is something that feels good about showing who you are, what you do or have done that you are proud to display. I'm pretty sure this is the universal feeling of wanting to be known... I had the joy and fortunate opportunity to share a little bit of myself at the Loop Coffee Shop in Tremont!
Every month Tremont holds an Art Walk where a bunch of establishments (Coffee shops, galleries, salons, spas, etc.) display some sort of artwork. The Loop supports many local artists and displays photos, paintings and pretty much anything you can hang on a wall! Last Friday, (September 13th) was the kickoff event for September's Tremont Art Walk. Loop brought in a cool band, "Daylight is the Dream", they rocked it! Quite a few people came out to see the artwork and hear the music!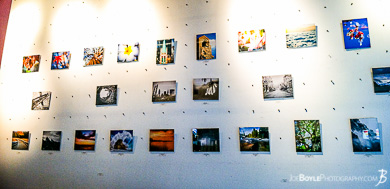 If you're in the Cleveland area and want to see my nature photos displayed, visit the Loop! 2180 W.11th Street, Cleveland, OH 44113. My photos will be displayed until October 11th and are $50 a piece for the print and frame!